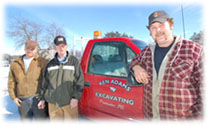 We own and operate over 50 pieces of equipment ranging from the small John Deere Tractor to the very large CAT D8 Dozer. This provides us with the opportunity to run one of the most efficient and productive operations in the excavating industry.

As a family owned and operated business, we always work to improve our operation and continue to maintain a solid reputation with those we deal with. In this industry where contractors come and go we are proud of the fact that we are now in our 3rd. generation of excavators.

Member Pentwater Chamber of Commerce fully licensed, bonded and insured.

We participate in commercial, institutional and land development projects, in both public and private sectors covering Mason County, Oceana County, Lake County, Newaygo, Manistee, Muskegon and Grand Rapids.

Weather permitting we work all year long!

Permits are not a problem. We can help you obtain permits for critical dunes, DEQ, septic, soil erosion and driveways.



MISSION STATEMENT
"We are a Site Development Company that delivers timely, reliable, and experienced service consistently with pride. We are a professional organization, with first class equipment and employees that take pride in their work and presentation on the job. It's what sets us apart. We are dedicated to providing the highest quality and service to our present and future customers. We are dedicated to acting with integrity, honesty, and fairness with our customers and employees."